While organisation, focus and good time-keeping have to come from within, having the resources around you to plan effectively certainly helps. You're never going to keep on top of all those deadlines and tasks if you try and keep them all in your brain, but invest in some sexy new stationary (and actually use it) and you'll be flying.
Plus, stationery is the perfect way to express your personality. Whether you prefer crazy and colourful, or simple and minimalist, customising your notepads and work tools to suit you will make you way happier using them.
We've put together a list of our absolute favourite note-taking weapons and tools for your stationery kit, perfect to bring to your 9am lectures. And yeah, we're not afraid of a little glitter.
1. Pen Pep Talk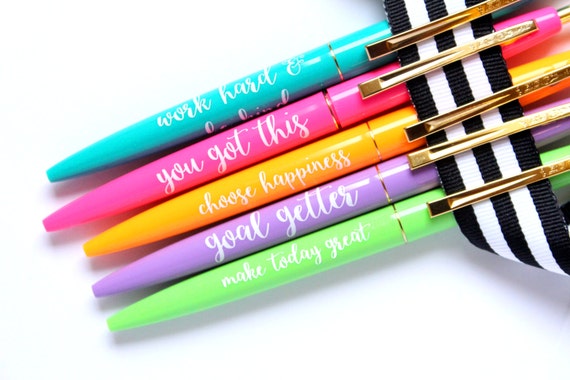 If you ever find yourself in need of a positivity boost while studying, then this colourful pen set has got your back. The motivational vibes these pens emit will help you get through those next hundred words of that essay. You got this.
2. Seriously Tropical Pen Pot
You can't have a set of colourful pens without a colourful pen pot. And what's better than this seriously tropical pineapple pen pot? Not only is it seriously cool, it might even help to inspire your next tropical holiday destination. Palm trees…here we come.
3. Happy Sticky Notes
Remember those plain neon post-it notes? They're so 2008. Nowadays you can get sticky notes in all shapes and sizes, including these cute smiling clouds. If you're having a bad day, these fluffy pals will brighten up your mood. You can't help but smile when you look at these guys.
4. Just Slayin' Notebook
Yes, we may live in an increasingly digital world. But everybody knows you learn more when you write your notes down rather than typing them out, so why reinvent the wheel? There's no reason your notebook can't slay as much as your other accessories. You can't go wrong with this glittery purple notebook.
5. Grammar Police Pencils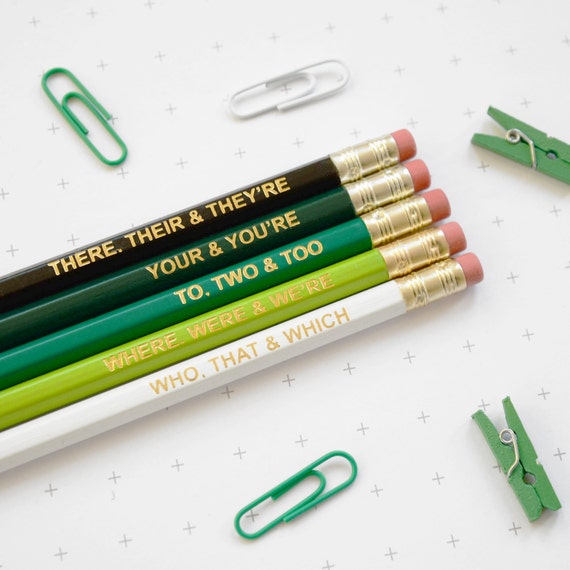 We know, we know, apostrophes are your worst enemy. But with these babies, there's no more excuses for mixing up 'your' and 'you're. The grammar police pencils won't let you get away with any rogue dashes or semicolons in your work, so you better fix up, look sharp.
6. Brain Dump Notepad
We all get those moments where our mind is absorbed in completely random thoughts – and they come and go without a trace. You might've had that light bulb moment in life, or come up with the most awesome business idea, but now you can't remember anything. With this brain dump notepad, you have space for those thoughts. Jot everything down then edit later.
7. Penguin Paper Clips
If you thought paper clips were pointless inventions only good for cluttering up your desk drawer then think again. You'll be clipping all your paper together with these babies. These adorable penguin paper clips are the perfect tool for any stationery geeks out there…
8. Academic Wall Planner
"I have no idea what I'm doing". Sound familiar? No more double booking or forgetting your bestie's birthday. This awesome wall calendar is waiting to be filled with your revision timetable, exam dates and uni social gatherings. Even more exciting – flip it over to reveal some funky drawings!
9. Hotdog Pencil Case
It's a pencil case. And a hot dog. And an actual dog. Have you ever witnessed anything so beautiful? If you're looking for a sophisticated and stylish way of transporting your pens around, look no further.
10) Daily Desk Pad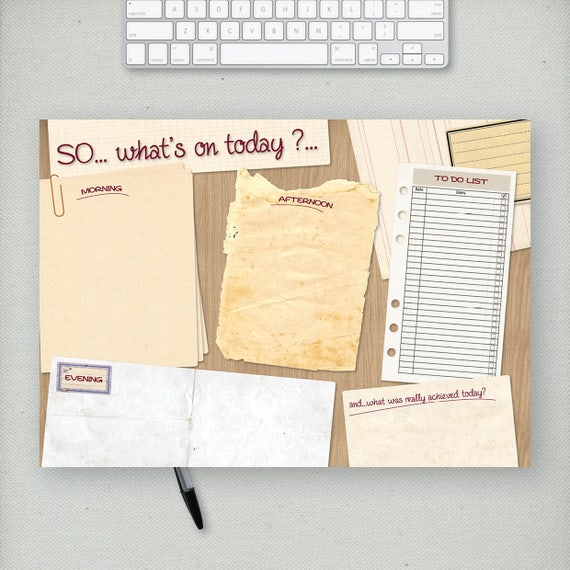 With this A3 daily desk pad, you can keep track of everything going on in your busy student life! You can plan your whole day from morning to evening and summarise what you have achieved by the end of the day – and it even has a to-do list. A genius all-in-one master planner.
So there you have it, 10 pieces of stationary that are guaranteed to get you feeling ready to take on your next year of university with a new focus and a lot more enthusiasm. Good luck!