If you're a telly addict – you've probably shed a fair few tears over fictional characters and story lines. Grab the tissues because we're about to take a look back at the most heartbreaking TV moments from the last 20 years…
Glee: After Cory Montheith's death, the show portrayed the death of his character, Finn Hudson, in a very emotional, and upsetting episode.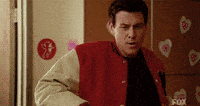 Grey's Anatomy: The horrific episode in which Denny dies leaving a heartbroken Izzie crying and holding onto his lifeless body. Right in the feelings.
Friends: Possibly one of the hardest television scenes to watch in entire television history. After 10 amazing years, one of our favourite shows came to a soppy end…
The Fresh Prince Of Bel-Air: That heart wrenching scene in which Will asks Uncle Phil why his father doesn't love him. To make things worse – this apparently wasn't even scripted…
Supernatural: That episode where Dean finally talks to Sam about the torture he went through during his 40 years stuck in Hell. 
The Walking Dead:  This is the scene when Rick finds out his wife, Lori, died giving birth to his daughter. And to make things worse, their son was the one to shoot his mother in the head to stop her "changing" into a walker. I refuse to ever watch this scene again.
Sons of Anarchy: When Jax came home to find his wife, the mother of his small children, stabbed in the head and bloody on the floor. My heart aches whenever I remember it…